Major Milestones in GBS Company History
February 12, 2021
 As we move through the year 2021 and continue to celebrate our 50th anniversary in business, we believe it's important to look back and recognize where we've come from as a company. Since our humble beginnings as a business forms provider in 1971, GBS has undergone tremendous growth and change and now operates in markets and industries throughout the world. Below is a brief summary of some of our major milestones and achievements as a company over the last five decades.
So, before we look ahead to the future challenges and hopeful successes to come, we take a moment to look back.
The 1970s:
Founded by Mr. Larry Merriman in the kitchen of his North Canton, Ohio home as a designer and printer of professional business forms in 1971.
Begins producing and selling filing products in 1974.
Begins offering computer technology solutions in 1978.
The 1980s:
Due to the invention of the PC, GBS expands its into new markets including Construction, Distribution, Municipalities, Credit Unions and Healthcare.
Begins technology partnerships with IBM, Hewlett Packard, and Microsoft.
Begins offering roll, sheet and fan-folded labeling solutions in 1981.
The GBS Employee Stock Ownership Plan (ESOP) begins in 1987.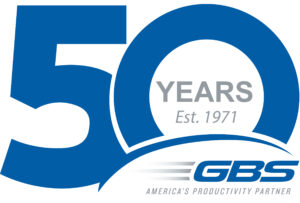 The 1990s:
Becomes the first service company to receive GM's prestigious "Mark of Excellence" award in 1990.
Opens its new Corporate Headquarters office in North Canton, Ohio in 1991.
Introduces the Sharetec core processing software system for credit unions in 1994, which is recognized as the fastest growing system in the industry in 1997.
Partners with CMS, a minority-owned business focused on value-added solutions to meet customer's diversity spending needs in 1998.
Sells its 500th practice management system to healthcare providers across the country in 1999.
The 2000s:
Records its first sale of NextGen Electronic Health Records (EHR) software in 2003.
Begins offering FileBound document scanning and conversion services in 2004.
Opens a state-of-the-art Document Imaging and Conversion Services Center in 2005.
Recognized as a leading software developer and Value-Added-Reseller (VAR) of vertical specific software for the healthcare, credit union and government industries in 2008.
The 2010s:
Initiates a direct-to-customer paper program, The Paper Center, in 2015.
Enters into the Revenue Cycle Management (RCM) services industry for healthcare providers in 2016.
Begins the Year of Giving Initiative (YOGI) to formalize all GBS community involvement and charitable giving activities in 2018.
Launches the Smart Business Solutions podcast show in 2019.
The 2020s:
Partners with XRS Solutions to offer the Rocket Collector automated collection system in 2020.
Celebrates its 50th anniversary as a company in 2021.