Creative, Print & Promo
Why Choose GBS BrandConnect?
Our ability to design, create and deliver quality marketing, printing and technology solutions to our customers – regardless of their size, budget and industry they operate in – is what sets GBS BrandConnect apart from our competition. By offering a complete suite of Design-to-Delivery solutions, we're able to provide our customers with more choices, savings and control over the way their products are viewed in the marketplace. For more information on what GBS BrandConnect can do for you and your company, click here.
Print Solutions
Our GBS BrandConnect print solutions are designed with the technology to make customized print and marketing easy, fast and affordable for companies large and small. By combining and leveraging all of the solutions that we offer, we're able to ensure that each and every customer's specific needs are met to their satisfaction. For more information on all of our custom printing capabilities – including variable data and sheetfed digital printing, UV sculpted imaging, foils and embossed images – as well as our direct mail, product labels and stickers and warehousing, kitting & fulfillment services, click here.
Apparel & Promotional Items
The GBS BrandConnect team provides a one-stop shop for all of your branded apparel and promotional item needs. Our Design-to-Delivery approach – performed in conjunction with our in-house creative services team – produces the type of branded merchandise you will be proud to give your customers and employees. From hats, shirts, hoodies and shoes to pens, coffee mugs, mouse pads and phone cases, we can provide the quality branded merchandise you need to take your brand to the next level. For more information on our GBS BrandConnect apparel and promotional items, click here.
Creative Services
Our Creative team works directly with clients to craft a comprehensive, custom blueprint that captures all aspects of a brand's market, vision and products. Once this plan and brand roadmap is in place, our team begins the process of designing the strategy, look and methods of outreach that will best carry your message to market. Our Design-to-Delivery approach combines all of these aspects – creative design, branding and strategic marketing – to position your products and services to make the greatest impact with consumers. Learn more about GBS BrandConnect's creative services by clicking here.
Feel free to contact us at 833.943.4427 to speak to one of our specialists.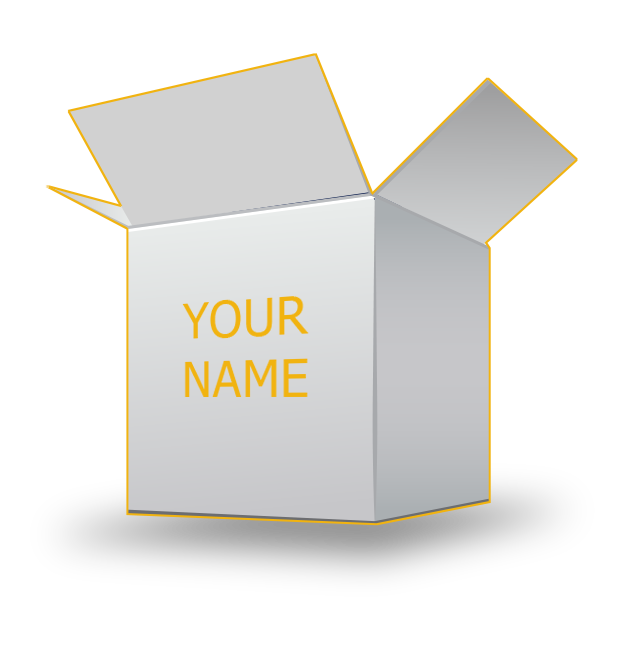 WOULD YOU OPEN THIS BOX IF IT HAD YOUR NAME ON IT?
Most likely, yes. Customizing an advertising piece to the interests of a specific person increases average response rates more than 500 percent, according to a Rochester Institute of Technology study. So GBS makes it easy to do.