Cloud-Based Computing Solutions
As part of our rich business partnerships and offerings, GBS provides clients with cutting-edge, state-of-the-art solutions in cloud-based computing. Our IT experts consult closely with businesses to create custom cloud solutions, which improve data security and efficiencies, reduce operating costs, and provide a sense of peace and confidence that the company's relevant data will always be secure and available when needed. Redundancy, scalability and affordability are all key aspects of these solutions.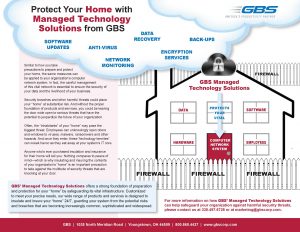 Our customizable Cloud solutions include the following:
Backup as a Service (BaaS) – A comprehensive Cloud backup and recovery solution designed to protect critical data and keep companies in business regardless of circumstances. These solutions are built on industry-leading platforms and secured in data centers throughout the country.
Storage as a Service (STaaS) – Our storage solution offers numerous benefits to our clients, including scalability for growth, reduced capital and operating expenditures on equipment, consistent cost structures and secure hosting and storage platforms.
Infrastructure as a Service (IaaS) – Our infrastructure solution is a must for businesses in all industries today and entrusts all technical support issues, server hardware maintenance, operating systems and updates into the hands of GBS professionals.
Disaster Recovery as a Service (DRaaS) – A great disaster recovery plan begins with a great cloud backup plan. Odds are that every company will experience a disruption in or loss of their IT services at some point and the necessity of having a redundant, secure and reliable way of retrieving critical data when an event occurs is vital to keeping your business in business.
All of our Cloud solutions utilize industry-leading systems and platforms and all data is housed in protected, ultramodern data centers located throughout the country. Public, private and hybrid cloud solutions are all available to best meet the needs of businesses of any size and in any industry.
To learn how our innovative and cost-effective Managed Technology Solutions can be customized to meet your needs, or to receive a custom quote, please contact us at 833.943.4427.
Learn More About the following: