Reach Customers with Ease Using Our Direct-to-Consumer eCommerce Platform
Created in 2019 by forward-thinking eCommerce experts, Rising Products is a Direct-to-Consumer eCommerce brand incubator for the latest and greatest in consumer products.
Do you have a new product you're introducing to the eCommerce marketplace? Or, are you looking for a way to market an existing product to consumers online?
Kickstarting your own eCommerce business is a complicated process. Brands can spend months in the trial-and-error stage before finding the perfect blend of digital marketing that drives sales—time that most brands don't have to spare.
Employing an expert-led Direct-to-Consumer eCommerce platform gives you the ability to hit the ground running—and Rising Products can help!
Simply put: Rising Products relieves the headache of direct-to-consumer product marketing by simplifying all parts of the eCommerce experience.
We streamline the digital marketing process by applying tried-and-true industry best practices to get your eCommerce business up and running. Our brands benefit from innovative and customized eCommerce support, including various marketplaces and traffic platforms such as our in-house DeluxeAds Network.
Rising Products manages all factors of the eCommerce end-consumer experience for you.
We mix a variety of eCommerce strategies that drive traffic and ultimately generate revenue for your business. Our clients trust us for digital marketing, paid ads, search engine optimization (SEO), Amazon product listings, warehousing, order fulfillment and much more!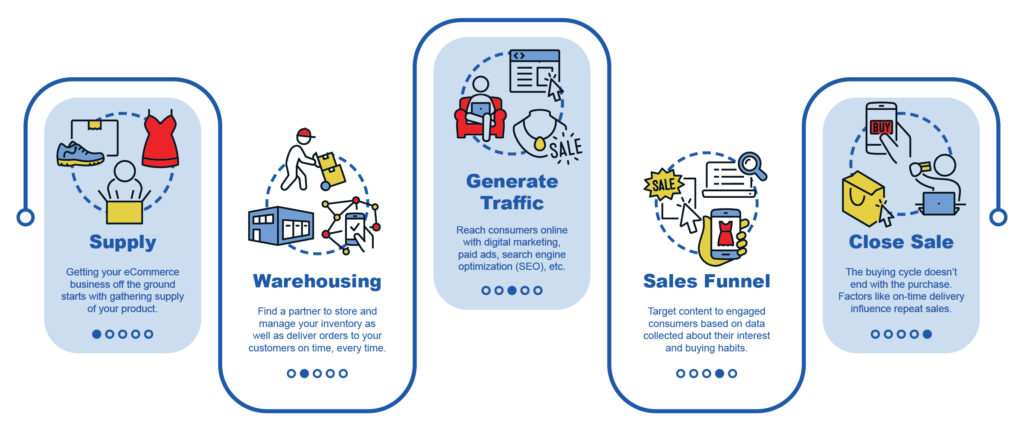 Our Direct-to-Consumer eCommerce platform grows with your business!
Jumping into the online marketing space without a strategy for growth can be detrimental to your brand. That's why all our eCommerce solutions are scaled to fit your unique product and specific needs.
Rising Products partners with you to scale your eCommerce business to meet marketplace demand. That way you'll never be discredited by supply shortages or dreaded delivery delays. Instead, our eCommerce activities work hand-in-hand with supply and demand to grow your brand with the market over time. That means you'll never be caught without funds or lose face with customers over slow processing and delivery, ultimately setting your brand up for long-term success and durability.
Is Rising Products a good fit for you?
We're passionate about helping businesses create eCommerce strategies that drive traffic and revenue. Some of our best work has been with brands that fit this profile:
You are looking to enter the Direct-to-Consumer eCommerce space for a new or existing product
You have established relationships with a supplier and have product available and in-hand
You have software that gives you the ability to accept payments online
TIP: If you're looking to re-evaluate how you accept payments online, GBS and Rising Products can help! Explore how our in-house online payment processing platform, PayCafe, makes online payment processing easy, efficient and cost-effective.
Contact us at 833.943.4427 to start growing your eCommerce business.