Brand Protection Solutions
How are you working to protect your brand from tampering, fraud and grey market diversion?
Successful brands are not established by themselves. They are built on years of research and product development, marketing, distribution, and public relations, among other business expenses. A company's brand is a source of identity that is able to engage with customers and grow revenue. Every year billions of dollars are lost due to product tampering, counterfeiting, and diversion in the supply chain. GBS Brand Protection Labels work to authenticate products for customers, protect a company's brand and revenue in the marketplace, and help monitor products as they travel through the supply chain.
Click below to receive a FREE Brand Protection Kit!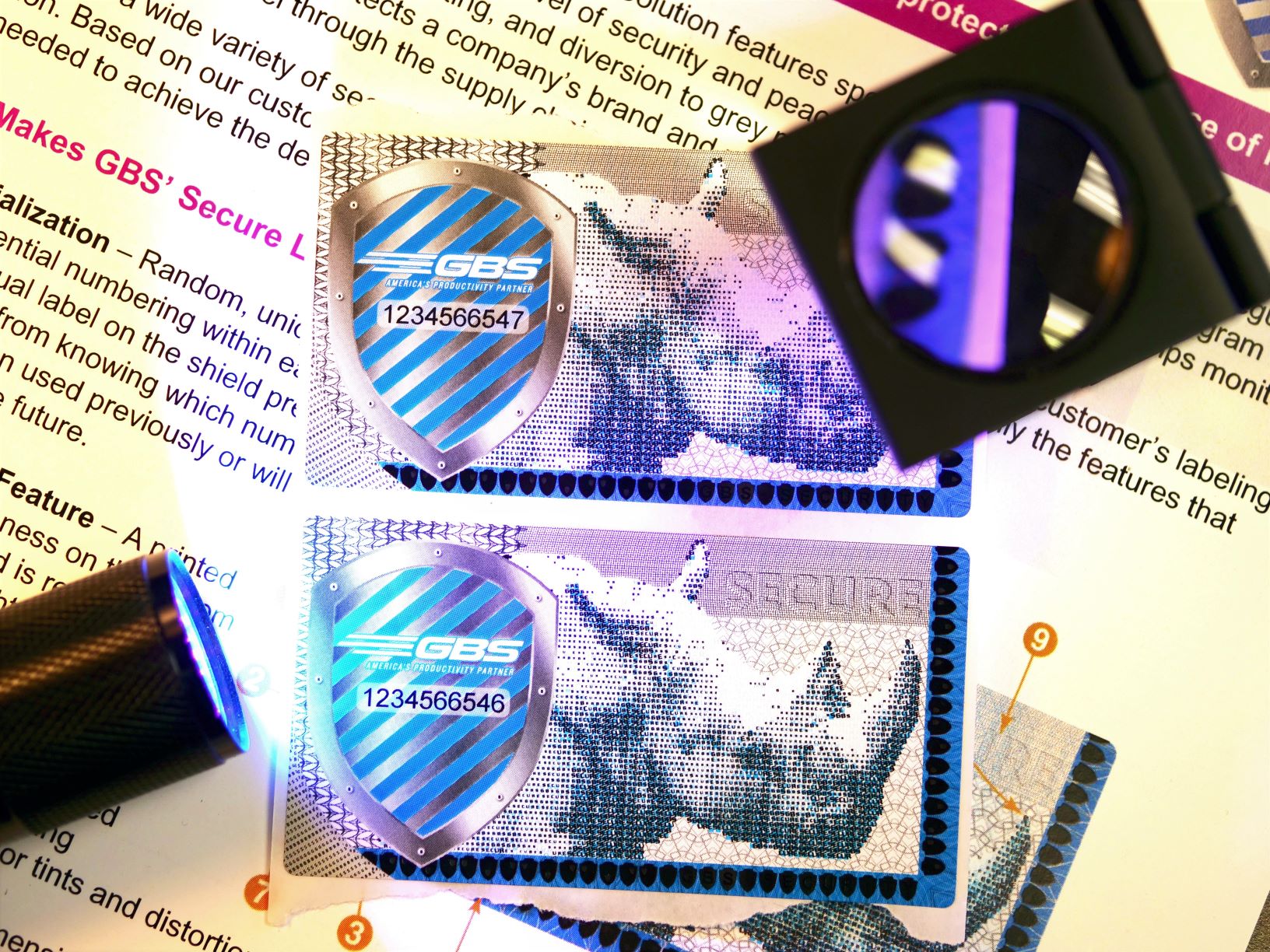 As technologies evolve, it is becoming increasingly difficult to distinguish genuine products from forgeries. This requires brands to be implementing leading-edge technologies at every aspect of their solution. GBS' subject matter experts work to identify aspects of your product that are most at risk for counterfeiting and build a brand protection label strategy to counteract these vulnerabilities. In order to stay ahead of counterfeiting and the serious repercussions of product tampering, it is important to take a proactive approach rather than reactive. Our Brand Protection Labels are dedicated to the time and research it takes to maintain an edge over potential forgers.
In order to protect your brand from tampering, fraud, and grey market diversion, GBS Brand Protection Labels have three core preventative technologies. Within each of these technologies there are an array of security features that can be incorporated into a customer's brand protection label solution.
Track-and-Trace
Track-and-trace technologies monitor and record past and present locations of specific products. This provides remote authentication as to where any specific product is located as they pass through the supply chain ensuring end-to-end authenticity and safeguarding your intellectual property. Secure knowledge of product location in the distribution network provides the ability to limit grey market diversion.
Overt (Visible Security Labels)
Overt features are security measures that are visible to the naked eye. This provides both the consumer and brand owner the ability to authenticate a product without the need for specialty tools. Requiring experience, time and restricted supply availability, counterfeiters are unable to re-create an exact replica of the product.
Covert (Invisible Brand Protection Features)
Covert features are security measures that require specialty tools to authenticate and are invisible to the naked eye. These brand protection features are often utilized as second-level security in combination with overt technologies. These features are unknown by potential forgers without prior knowledge and are difficult to replicate the process ensuring the integrity of your product.