GBS to Celebrate 50 Years of Business Excellence in 2021
January 1, 2021
The year 2021 marks an important milestone in the history of GBS. It was 50 years ago this year, in 1971, that GBS came into existence. The company was started by our founder, Mr. Larry Merriman, at the kitchen table in his home in North Canton, Ohio. Having recently lost his job and facing the challenge of providing for his young family, Mr. Merriman made the decision to strike out on his own and utilize his sales and business experience to meet a need he recognized at that time – providing customers with professional, customized business forms.
This was the genesis of GBS – recognizing the most critical needs of businesses and providing practical, technology-based solutions to meet those needs. The core values of outstanding customer service and attention to detail were built by Mr. Merriman into all of these solutions, and remain at the center of our business culture today.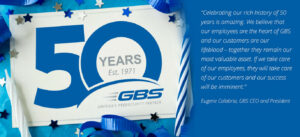 As GBS began to grow in the early 1970s, Mr. Merriman quickly outgrew his kitchen table. Expanding steadily throughout Northeastern Ohio with facilities in North Canton, Stow, Malvern and Youngstown, the company's reach eventually made its way into Florida, Tennessee, Massachusetts, Missouri and Puerto Rico.
Although our business has changed tremendously over our half-century of existence, we still provide business forms to our clients today. We also offer customized solutions for the healthcare, financial and credit union, IT, automotive, manufacturing, education, government and retail industries – just to name a few. With more than 250 current employees throughout the country and revenues in excess of $100 million, it's hard to believe that Mr. Merriman could have envisioned all of this 50 years ago. But, thanks to his courage, vision and leadership, GBS has had the pleasure of serving thousands of clients around the world with solutions to make their businesses better and their customers happier.
As we embark on our second half-century of success, we thank everyone – all of our customers and employees – that have made this journey possible. To read the entire statement on our 50th anniversary from our CEO and President, Eugene Calabria, click here.