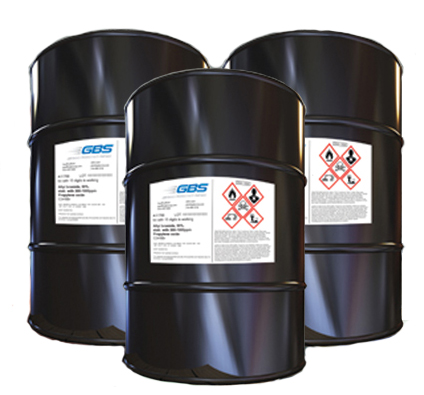 Are you prepared to meet the GHS Labeling Requirements?
The Globally Harmonized System of Classification and Labeling of Chemicals (GHS) was adopted by the United Nations in 2003. This system was implemented to standardize and harmonize the classification and labeling of the chemical business. Chemicals through the different steps from production to handling, transport, and use, can be a danger for humans and the environment. These labels were handled by people of many different ages and languages, which raised the issue of needing to standardize these labels so everyone is immediately familiar with the information and symbol on the label. These standards are expected to ensure the safe use, transport, and disposal of these chemicals.
The GHS label standards require:
Symbols (Hazard Pictograms) – must convey health, physical and environmental hazard information that has been assigned to a GHS hazard class and category. Many or most of these symbols or pictograms must be printed in color.
Signal Words – "Danger" or "Warning" are used to emphasize hazards and indicate the level of severity of the hazard that has been assigned to a GHS hazard class.
Hazard Statements – These statements must include standard phrases that have been assigned to a hazard class and category, which describes the nature of the hazard.
Prior to this standardization, many companies could produce preprinted labels with a variety of pictograms and use a thermal transfer printer to cross-out those symbols that didn't apply to this chemical. However, under GHS, this practice is no longer allowed.
What are the requirements for British Standard BS5609?
Chemical manufacturers that transport international shipments are obligated to label their products with materials that meet BS5609. British Standard BS5609 is a specification for printed pressure-sensitive, adhesive coated labels for marine use which includes requirements for the label base material.
GBS can help you become compliant to Section 2 and Section 3 of BS5609.
What is Section 2 Compliance?
Section 2 tests are conducted on the blank pressure sensitive material, adhesive coated material. Tests include exposure to artificial weathering, dimensional stability, adhesion, etc. When a label is Section 2 Compliant, it means only the blank label is BS5609 Section 2 Compliant.
What is Section 3 Compliance?
Testing of printed labels for abrasion and permanence of print. Section 3 covers the ink and print process.
To be in complete compliance, your label is required to be both Section 2 and Section 3 Compliant.
GBS provides Labeling Solutions that meet the GHS and BS5609 standards. We offer a variety of options for drum and pail labeling needs including inkjet, laser and therm. Our labeling specialists will create labels to fit your container sizes.
Contact us today at 833.943.4427 to learn how we can create a GHS labeling solution specifically for you.