NextPen®
A Solution to increase productivity, accelerate documentation and improve your bottom line.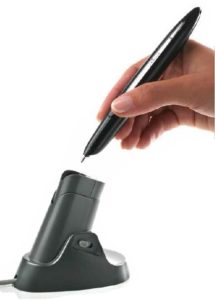 NextPen® is a digital pen with a tiny digital camera located in the tip. It captures everything the patient or provider writes or draws, and turns the information on the handwritten form into discrete data elements that become part of a patient's electronic health record. When placed into its USB docking station, data is uploaded where the information can be reviewed and approved.
The benefits of NextPen® include the following:
Simple, fast, intuitive data capture
No learning curve for patients; minimal learning curve for providers and staff
Provides accurate, verified electronic data without transcription, scanning or typing
NextPen® is utilized by patients and providers. It allows patients to complete their medical history, demographics and signatures from the waiting room. Providers utilize NextPen® to capture HPI, PE, ROS, as well as to color drawings and document signatures.
NextPen® is capable of storing up to 250 pages of data, enabling providers to utilize the pen all day without docking it. Most importantly, NextPen® is an efficient and cost-effective solution that allows providers to focus on what really matters – their patients.
NextPen® Security
NextPen® does not contain any patient-identifying information. For this reason, if NextPen® is ever lost or stolen, unauthorized users are unable to access its encrypted, secure data. To help identify patients and accurately capture data, the paper forms use a faint dot pattern in the background. This allows the data to match up precisely with the correct patient record. Standard printers have the ability to easily print these patterns on ordinary copy paper, even though each pattern is as unique as a fingerprint.
To learn more about this ground-breaking solution, contact us at 800.860.4427.