GBS' Rocket Collector Solution
GBS specializes in software systems for credit control, debt collection, debt management and legal debt recovery. Our solutions will transform your collections activity with secure, modern, cost-effective technologies.
Integrating customized business strategies, escalation features, legal requirements and a proven customer-focused workflow, GBS' Rocket Collector automates the debt recovery process and ensures that you're taking the right action at the right time to maximize your revenue collections. Automating an organization's financial operations, GBS assists companies in a variety of industries with the selection and implementation of solutions to meet their precise needs and optimize business efficiency.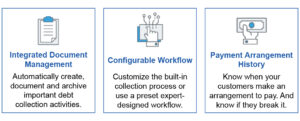 GBS' Rocket Collector offers the following benefits to businesses:
Reduce delinquency rates by greater control of the collections process
Utilize our Self-Service Portal to allow debtors to quickly and easily negotiate their own payment plan and submit payments, increasing business productivity and profitability
Optimize efficiency by automating many administration tasks currently undertaken by collectors
Decrease staff costs by automating tasks and freeing up resources
Maximize return on investment
Increase control with comprehensive , smart business rules and task allocation
Increase customer retention by ensuring integration with your CRM
In addition, GBS' Rocket Collector is completely customizable and scalable based on your needs. Choose from pre-defined workflows designed by industry experts or create one specific to your needs and location. Lastly, GBS' Rocket Collector is completely compatible and integrates seamlessly with most ERP, CRM, Core systems – making your transition to a more efficient collections system effortless.
To learn more about GBS' Rocket Collector solution and download our product brochure, click here.
To visit the Rocket Collector website, click here.